The Effect of Surface Acoustic Wave (SAW) Device on the Symptomatology of Trigeminal Neuralgia
Shira Markowitz, Jonathan Rosenblum, Leib Litman and Hrishikesh Gadagkar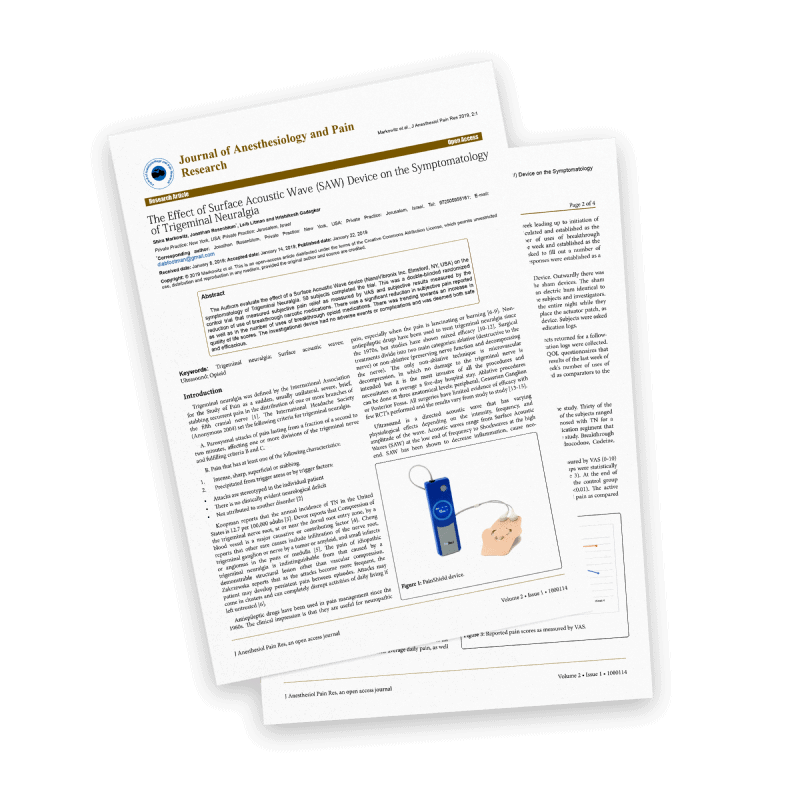 Enter Your Information Below to View this FREE Resource:
Along with receiving this free guide for treating pain, we will periodically send you updates and information about our products. We will never send any spam or too many emails. 
The Authors evaluate the effect of a Surface Acoustic Wave device (NanoVibronix Inc. Elmsford, NY, USA) on the symptomatology of Trigeminal Neuralgia. 59 subjects completed the trial. This was a double-blinded randomized control trial that measured subjective pain relief as measured by VAS and subjective results measured by the reduction of use of breakthrough narcotic medications.
There was a significant reduction in subjective pain reported as well as in the number of uses of breakthrough opioid medications. There was trending towards an increase in quality of life scores. The investigational device had no adverse events or complications and was deemed both safe and efficacious.

Ultrasound Therapy for Pain
PainShield® by NanoVibronix is a type of ultrasound therapy for pain that delivers fast pain relief for nerve and soft tissue damage.
NO DRUGS
NO SIDE EFFECTS
NO SURGERY
EASY TO USE
SCIENTIFICALLY PROVEN
AMAZINGLY FAST RESULTS
PainShield is applicable to treat both chronic and acute pain. PainShield may be used immediately post-injury and post-op. Patient benefits include its ease of application and use, faster recovery time, high compliance, safety, and effectiveness.
Advanced portable therapy
Effective anytime, anywhere