A sound solution for Trigeminal Neuralgia
Haim- Moshe Adahan, Head of the Pain Rehabilitation Unit, Sheba Medical Center, Yaacov Ezra, Pain Division, Hadassah Hospital Jerusalem, Itschak Siev-Ner, Orthopedic Rehabilitation, Sheba Medical Center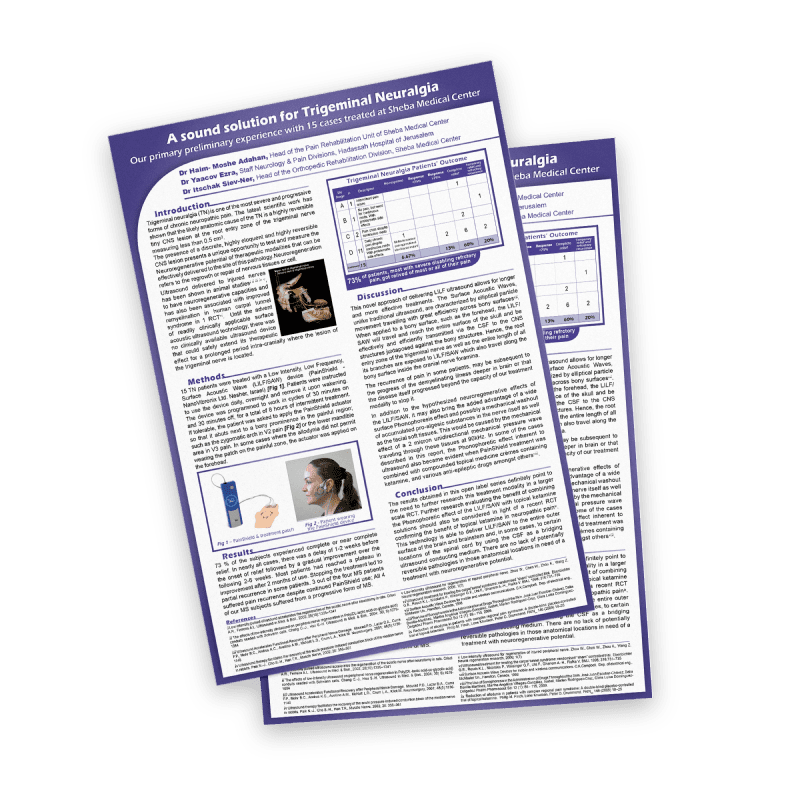 Enter Your Information Below to View this FREE Resource:
Along with receiving this free guide for treating pain, we will periodically send you updates and information about our products. We will never send any spam or too many emails. 
6th Annual Update Symposium Series on Clinical Neurology and Neurophysiology, Israel, Feb. 2010

Ultrasound Therapy for Pain
PainShield® by NanoVibronix is a type of ultrasound therapy for pain that delivers fast pain relief for nerve and soft tissue damage.
NO DRUGS
NO SIDE EFFECTS
NO SURGERY
EASY TO USE
SCIENTIFICALLY PROVEN
AMAZINGLY FAST RESULTS
PainShield is applicable to treat both chronic and acute pain. PainShield may be used immediately post-injury and post-op. Patient benefits include its ease of application and use, faster recovery time, high compliance, safety, and effectiveness.
Advanced portable therapy
Effective anytime, anywhere