Ultrasound Therapy for Wound, Bone Fractures and Soft Tissue Healing
September, 2014Dr. Dagan Harris, NanoVibronix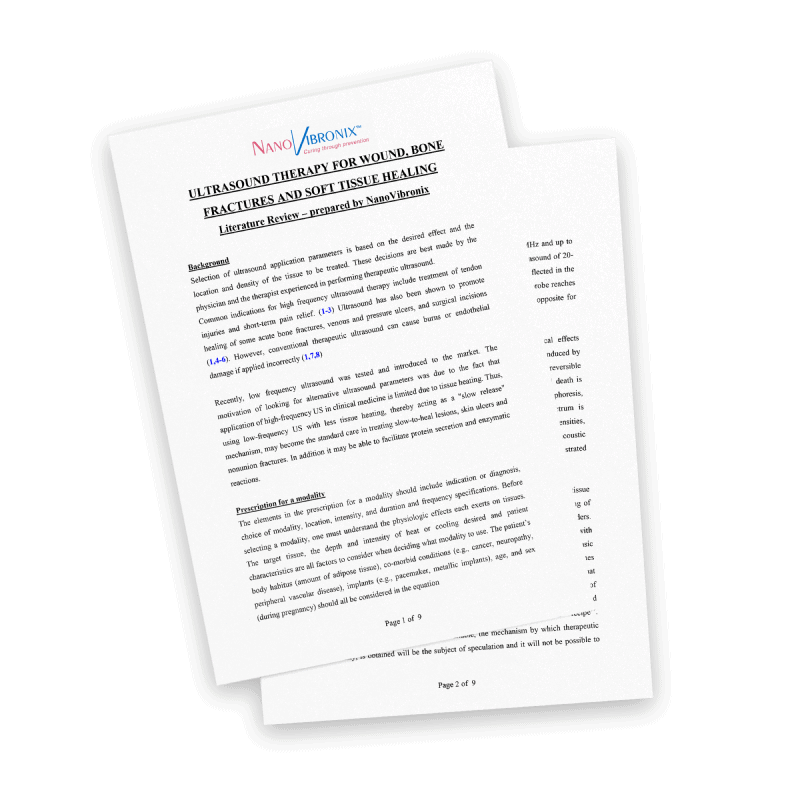 Enter Your Information Below to View this FREE Resource:
Along with receiving this free guide for treating pain, we will periodically send you updates and information about our products. We will never send any spam or too many emails. 
Background
The selection of ultrasound application parameters and therapeutic ultrasound intensity is based on the desired effect and the location and density of the tissue to be treated. These decisions are best made by the physician and the therapist experienced in performing therapeutic ultrasound.
Common indications for high frequency ultrasound therapy include treatment of tendon injuries and short-term pain relief. (1-3) Ultrasound has also been shown to promote healing of some acute bone fractures, venous and pressure ulcers, and surgical incisions (1,4-6). However, conventional therapeutic ultrasound can cause burns or endothelial damage if applied incorrectly (1,7,8).
Recently, low frequency ultrasound was tested and introduced to the market. The motivation of looking for alternative ultrasound parameters was due to the fact that application of high-frequency US in clinical medicine is limited due to tissue heating. Thus, using low-frequency US with less tissue heating, thereby acting as a "slow release" mechanism, may become the standard care in treating slow-to-heal lesions, skin ulcers and nonunion fractures. In addition it may be able to facilitate protein secretion and enzymatic reactions.

Ultrasound Therapy for Pain
PainShield® by NanoVibronix is a type of ultrasound therapy for pain that delivers fast pain relief for nerve and soft tissue damage.
NO DRUGS
NO SIDE EFFECTS
NO SURGERY
EASY TO USE
SCIENTIFICALLY PROVEN
AMAZINGLY FAST RESULTS
PainShield is applicable to treat both chronic and acute pain. PainShield may be used immediately post-injury and post-op. Patient benefits include its ease of application and use, faster recovery time, high compliance, safety, and effectiveness.
Advanced portable therapy
Effective anytime, anywhere