A Randomized, Double-Blind Trial Evaluating the Safety and Efficacy of the PainShield® Surface Acoustic Wave (SAW) Device vs. Sham Device
A Randomized, Double-Blind Trial Evaluating the Safety and Efficacy of the PainShield® Surface Acoustic Wave (SAW) Device vs. Sham Device
David Lemak, MD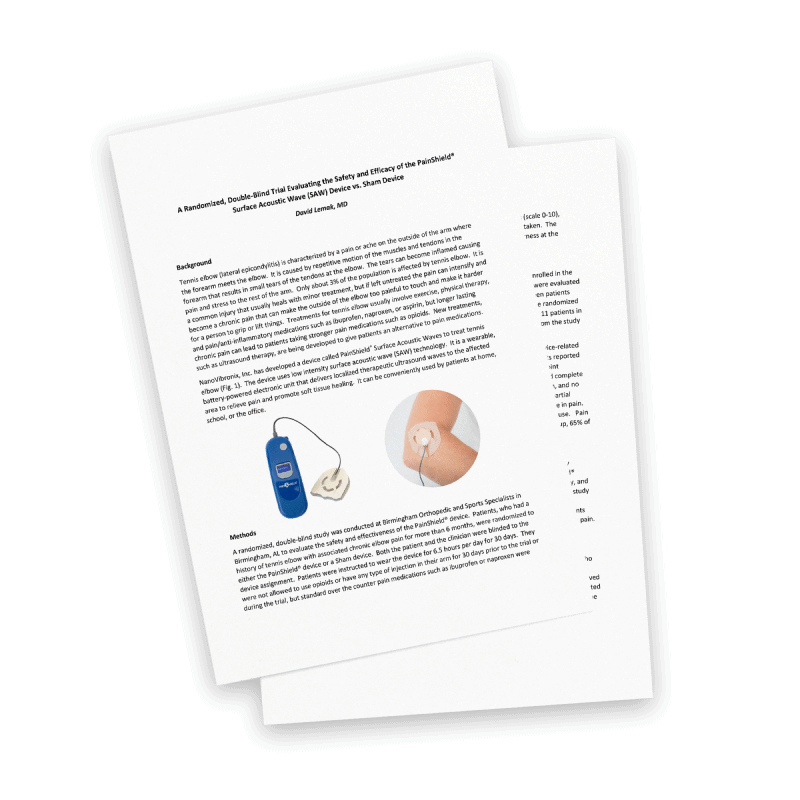 Enter Your Information Below to View this FREE Resource:
Along with receiving this free guide for treating pain, we will periodically send you updates and information about our products. We will never send any spam or too many emails. 
Tennis elbow (lateral epicondylitis) is characterized by a pain or ache on the outside of the arm where the forearm meets the elbow. It is caused by repetitive motion of the muscles and tendons in the forearm that results in small tears of the tendons at the elbow. The tears can become inflamed causing pain and stress to the rest of the arm. Only about 3% of the population is affected by tennis elbow. It is a common injury that usually heals with minor treatment, but if left untreated the pain can intensify and become a chronic pain that can make the outside of the elbow too painful to touch and make it harder for a person to grip or lift things. Treatments for tennis elbow usually involve exercise, physical therapy, and pain/anti-inflammatory medications such as ibuprofen, naproxen, or aspirin, but longer lasting chronic pain can lead to patients taking stronger pain medications such as opioids. New treatments, such as ultrasound therapy, are being developed to give patients an alternative to pain medications.
NanoVibronix, Inc. has developed a device called PainShield® Surface Acoustic Waves to treat tennis elbow (Fig. 1). The device uses low intensity surface acoustic wave (SAW) technology. It is a wearable, battery-powered electronic unit that delivers localized therapeutic ultrasound waves to the affected area to relieve pain and promote soft tissue healing. It can be conveniently used by patients at home, school, or the office.

Ultrasound Therapy for Pain
PainShield® by NanoVibronix is a type of ultrasound therapy for pain that delivers fast pain relief for nerve and soft tissue damage.
NO DRUGS
NO SIDE EFFECTS
NO SURGERY
EASY TO USE
SCIENTIFICALLY PROVEN
AMAZINGLY FAST RESULTS
PainShield is applicable to treat both chronic and acute pain. PainShield may be used immediately post-injury and post-op. Patient benefits include its ease of application and use, faster recovery time, high compliance, safety, and effectiveness.
Advanced portable therapy
Effective anytime, anywhere